Regular price
$180.00 USD
Sale price
$89.99 USD
Unit price
per
Sale
Sold out
Each wallet are hand-carved and will be slightly different from each other - the color may differ from the images but will darken overtime.
The Hundred Ghosts™ Japanese Wallet is designed for Japanese tattoo enthusiasts or those who loves tattoo in general. It offers an irresistible appeal to those who does not possess the same, and we GUARANTEE that this wallet will definitely make heads turn on you! 
If you value good design and greater efficiency, you should definitely make the Hundred Ghosts™ Japanese Wallet a part of your daily essentials.

Hand-carve Japanese tattoo design
The Hundred Ghosts™ Japanese wallet is an essential wallet to have. With a sophisticated craftmanship designed to impress while promoting traditional Japanese tattoo art at the same time. 
Each Hundred Ghosts™ Japanese Wallet has a compelling story to tell. The wallet will absorb the natural oils of your hands which will allow it to develop a unique dark rich color.
Wallets serve a specific purpose: "to carry around your cash, cards, ID and any other essential info assets that you need in your daily life".
With today's modern wallets, it's very easy to overload with too much things, tearing leather and difficult to organize. The solution? A Japanese wallet that will help organize and keep EVERYTHNG in one place wherever you go.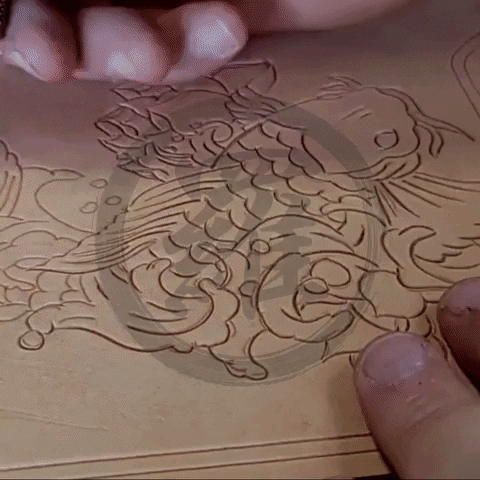 Specifications:
Holds up to
12 cards + bills
efficiently (6 card slots)
Main Material:
 Genuine Cowhide
Leather / Leather Lining
Wallet Type:
Short Bifold Wallet
Design: Hand-carved Koi, Fudo, Skull, Pixiu, and Fujin & Raijin
Inner Wax Color:
Black and
Burgundy
Size
: 3 3/8" x 4 1/8" (folded), 
8 1/2" (opened)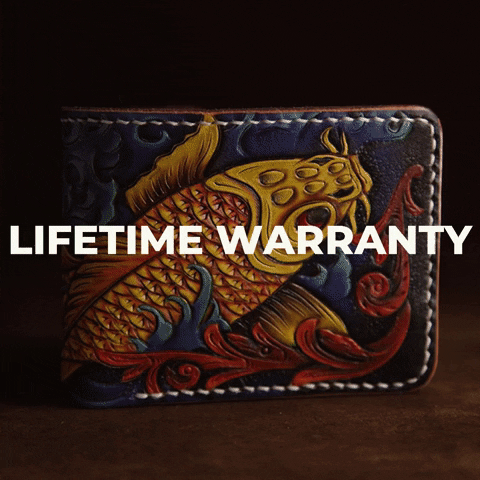 View full details
Frequently Asked Questions
How much is the Shipping Cost?

We will cover the shipping cost for this week only.

After that, the shipping cost will be back at $15.95 - $35.00 for orders below $100
How do I avail the Free necklace promo?

The Free Necklace Promo will appear once as a pop-up at the top of the page when you first visit our shop.

That means you can only avail it on that day - the promo is valid for orders of $50 and above and the FREE hannya mask necklace will automatically be in your cart.

Promo is not applicable with other discount codes.
How long does it take to receive my order?

The delivery times varies depending from where you made the order. On average Standard Shipping is between 7 and 10 business days. 

However, due to the recent outbreak our logistics company faces more stringent checks during transit. Because of that, tracking information will be delayed until orders are complete with your Country's Customs.
Worldwide Shipping

Guaranteed Secured Payment. Pay with your own trusted bank.

Made by Oni, For Humans

High Quality products backed by our 24/7 oni support team