Regular price
$80.00 USD
Sale price
$64.95 USD
Unit price
per
Sale
Sold out
⚠️ UPDATE: Due to our promotion, our stocks are running low, crafting time may take 2-3 weeks before we can ship it out. We strongly advise to buy early while stocks are avilable.:
This bracelet contains the 9 Power Symbol Japanese Kanji also referred to as ''The Nine Hands Seals'' or ''The Nine Cuts'' are hand positions used in Ninjutsu as a process of ritual and meditation called Kuji Kiri.  They are accompanied by a mantra called Kujiin.
☯ 8.4 Inch Stretch Bracelet
☯ Yin Yang Bagua Gold Engraved Carved Onyx Bead
☯ 4x Strength White Stretch Band 
☯ 12mm 9 Power Symbol Gold Engraved Onyx Beads
"Kuji" is a term that is used to describe energy focusing, which is what is meant to occur when preforming kuji-in or kuji kiri. The nine hand gestures or cuts correspond with mantras that serve to evoke energy change and in some cases, inspire enlightenment.
 
Rin - Power
Pyōh - Energy
Tōh - Harmony
Sha - Healing
Kai - Intuition
Jin - Awareness
Retsu- Dimension
Zai - Creation
Zen - Absolute

100% SATISFACTION GUARANTEE
We have already helped more than 3,700 customers with great success. Of the 802 reviews we received, we received a (4.8/5) rating.⭐⭐⭐⭐⭐

Don't like our product/s? No Worries!

Not satisfied = Get your Money back
Customer Service 24/7
If you have any questions, please contact our customer service department.
GUARANTEED SECURE PAYMENT

We use the most reliable payment methods in the US and around the world.
You can pay with:
Paypal
Credit Card(Visa, Mastercard, American Express, and others)
View full details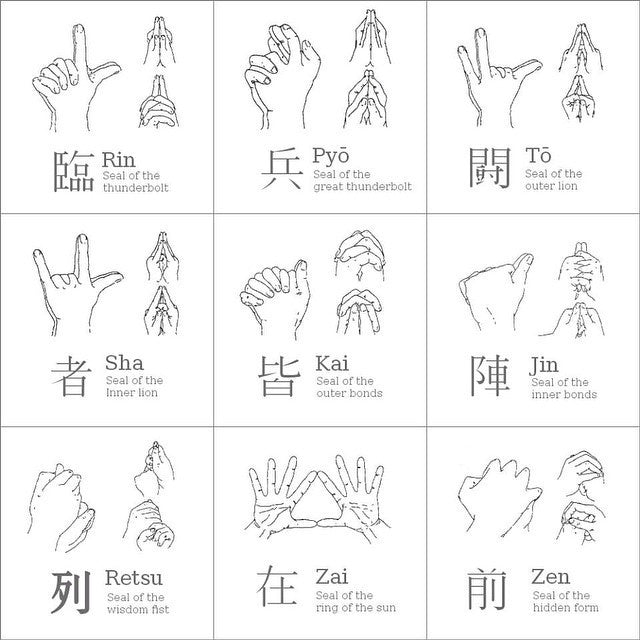 Frequently Asked Questions
How much is the Shipping Cost?

We will cover the shipping cost for this week only.

After that, the shipping cost will be back at $15.95 - $35.00 for orders below $100
How do I avail the Free necklace promo?

The Free Necklace Promo will appear once as a pop-up at the top of the page when you first visit our shop.

That means you can only avail it on that day - the promo is valid for orders of $50 and above and the FREE hannya mask necklace will automatically be in your cart.

Promo is not applicable with other discount codes.
How long does it take to receive my order?

The delivery times varies depending from where you made the order. On average Standard Shipping is between 7 and 10 business days. 

However, due to the recent outbreak our logistics company faces more stringent checks during transit. Because of that, tracking information will be delayed until orders are complete with your Country's Customs.
Worldwide Shipping

Guaranteed Secured Payment. Pay with your own trusted bank.

Made by Oni, For Humans

High Quality products backed by our 24/7 oni support team